Teru Saeki
Edit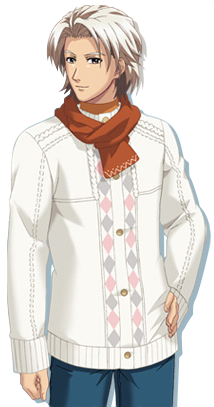 Meeting Requirements: Automatically on Day 1
Birthday: July 19th
Star Sign: Cancer
Blood Type: B
Club/Job: Sangosho Cafe
Favorite Color: Aqua Blue
Future: First-rate university
Your Rival: None
Voice Actor: Masakazu Morita
Nicknames:
Default: Saeki-kun, Saeki-san
Smiling: Saeki­, Teru-kun
Grinning: Teru, Terurin
Tokimeki: Terutan
Like, Dislikes and Tips:Edit
Favorite Outfit Style: Pure
Acceptable Outfit Style: Sexy
Disliked Outfit Style: Elegant
Swimsuit:
Ideal DatesEdit
Amusement Park (Jet coaster)(Night parade)
Aquarium (Normal) (Orca show)
Beach
Botanic Gardens
Event Hall (Vivito Jipa Hold)
Fireworks Festival
Flea Market
Habataki Mountain (Skiing)
Live House (Smile Jibes)
Movie Theater (SPINNING 2)
Museum (Glass art display)
Park Entrance (Shopping)
Seaside Stroll
Seaside Park (Tour boat)
Shopping Mall
Skate Park
Disliked Dates:Edit
Amusement Park (Merry Go Round) (Haunted House)
Event Hall (Rumble House) (CAMINO)
Forest Park (Winter)
Game Center (Video Game) (Music Game Corner)
Habataki Castle (Display Corner)
Indoor Pool
Karaoke BOX
Live House (Talk Live)
Movie Theater (Mikuro)
Museum (Normal) (Mihara Shiki Exhibition) (GAAGII Exhibition)
Zoo (Normal) (Petting Zoo)
Neutral State: Tap his eyes, hair, or torso
Smiling:
Grinning and Tokimeki: Pretty much anything is acceptable (as long as you didn't upset him.)
Correct ResponsesEdit
Amusement Park (Roller Coaster) = "Isn't it? Let's ride at the very front."
Habataki Mountain (Skiing) = "If it's skiing, leave it to me!"
Birthday and Christmas Gifts
Edit
Birthday GiftsEdit
1st Year: Photo Frame decorated with Shells
2nd Year: Glass Vase
3rd Year: Glass Mermaid Figurine
Christmas GiftsEdit
1 rich: Wooden Dinosaur Craft
10 rich:
Ending Requirements
Edit
Intelligence = 150+
Arts = 150+
Style = 150+
Fitness = 150+
Social = 110+
Charm = 90+
At least 15 Dates (With Accidental Kiss) 25 Dates (Without Accidental Kiss)
Ad blocker interference detected!
Wikia is a free-to-use site that makes money from advertising. We have a modified experience for viewers using ad blockers

Wikia is not accessible if you've made further modifications. Remove the custom ad blocker rule(s) and the page will load as expected.