Taku Komori
A second-year transfer student from Kirameki High. He is introverted and anti-social. For some reasons, he dislikes going to school and tends to ditch a lot. He'll open up if the player consistently visits him.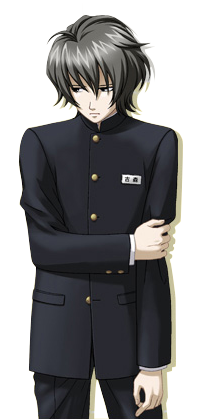 Meeting Requirements: Raise Social to 50 or above, he will appear on October 1st (Year 2)
Birthday: February 22nd, 1988
Star Sign: Pisces
Blood Type: O
Club/Job: None
Future: Finish attending Hanegasaki High
Voice Actor: Daisuke Matsubara
Nicknames:
Default: Komori-kun
Dating
Due to Komori being a secret character, you don't have to worry about your outfit style, calling him for dates, or saving for presents.
Skinship
Neutral State:
Smiling:
Grinning and Tokimeki:
Birthday and Christmas Gifts
He doesn't accept Christmas gifts, so save your money with a random 1 rich item.
Ending Requirements
Social = 260+
No guys at Tokimeki status
CG List
1. Soup
Date: Summer
Conditions: Reach point no.7
Affection: :) No guys at Tokimeki status
What happens: Taku offers the player some homemade soup and shares some information about himself

2, 3. Tears on the beach 
Date: Any school day
Conditions: Reach point no.8
Affection: - No guys at Tokimeki status
What happens: Komori is crying when he looks at the ocean and remembers his past.

Gallery