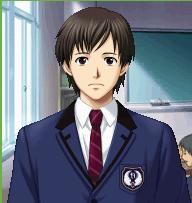 Name: Kenta Taira (平 健太 Taira Kenta)
Meeting Requirements: Before you meet Mr Oosako, the teacher, you need to touch him in class once. He's the one with the "x" on his back on the far right hand side of the touch screen cg. After you meet Mr Oosako, you need to touch him again. He'll then introduce himself.
Height: 174 cm
Weight: 58 kg
Interests:
Birthday: August 8th
Star Sign: Leo
Blood Type: A
Club: None
Part-time Job: None
Description: A "secret" character only in the DS version of GS3, he's a classmate of the main character who doesn't have any special features and always falls into the background, and falls in love with the main character at first sight.
Requirements
Edit
You have to touch him, who is hiding in the background, every time that he is available with no misses. When you touch him, a red heart will pop out. To get his ending your parameters must be high enough to trigger the pre-rose queen event. You need at least 100 of intelligence, arts, fitness, social, style and charm by February of the second year.