Shota Amachi
Edit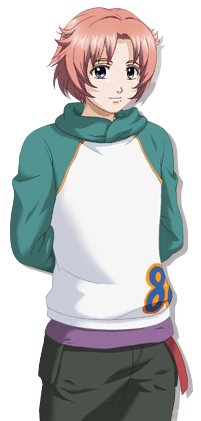 Meeting Requirements: Automatically on May 4th (2nd Year)
Birthday: June 6th
Star Sign: Gemini
Blood Type: AB
Club/Job: Cheerleading
Favorite Color: Grey
Future:
Your Rival: None
Voice Actor: Makoto Naruse
Nicknames:
Default: Amachi-kun, Amachi
Smiling: Amayan, Shota, Shota-kun
Grinning: Sho-kun
Like, Dislikes and Tips:Edit
Favorite Outfit Style: Pure
Acceptable Outfit Style: Elegant
Disliked Outfit Style: Sexy
Swimsuit:
Ideal DatesEdit
Amusement Park (Jet Coaster) (Night Parade) (GT Racing)
Bowling Arena (Bowling) (Darts)
Event Hall (Rumble Bouzu) (Vivito Jipa Hold)
Game Center (Music Corner)
Habataki Mountain (Skiing)
Live House (Human Life)
Movie theater (the House Next Door)
Museum (Dinosaur and Fossils Exhibit)
Park entrance (Shopping)
Seaside Park (Walkway) (Bayside Bridge)
Skate Park
Zoo (White Tiger)
Disliked DatesEdit
Amusement Park (Haunted House)
Beach
Event Hall (KCH Orchestra)
Forest Park (Summer) (Winter)
Live House (Dig Mouse Brother) (Talk Live)
Movie Theater (Stairway) (Silent Hill)
Seaside Park (Tour Boat)
Seaside Walk
Sky Garden
Zoo
Neutral State:
Smiling:
Grinning and Tokimeki:
Correct ResponsesEdit
Birthday and Christmas Gifts
Edit
Birthday GiftsEdit
1st Year: None
2nd Year: Special Swiss MU-KU
3rd Year: Silver Watch
Christmas GiftsEdit
1 rich:
10 rich: Fried Sweets Set
Ending Requirements
Edit
Intelligence = 100+
Art = 100+
Style = 100+
Fitness = 100+
Social = 90+
Charm = 70+
At least 15 Dates (With Accidental Kiss) 25 Dates (Without Accidental Kiss)
Ad blocker interference detected!
Wikia is a free-to-use site that makes money from advertising. We have a modified experience for viewers using ad blockers

Wikia is not accessible if you've made further modifications. Remove the custom ad blocker rule(s) and the page will load as expected.