Shiki Mihara
Edit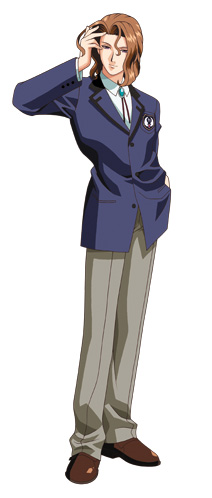 Meeting Requirements: Reach 55 in Arts
Birthday: January 15th, 1987
Horoscope: Capricorn
Blood Type: AB
Club/Job: Art Club
Favorite Color: Purple
Favorite Music: Beautiful music
Your Rival: Mizuki Sudo
Future:
Voice Actor: Shinichiro Miki
Nicknames:
Default: Mihara-kun
All times: Mihara-san, Shiki-sama, Shiki-kun, Shiki
Grinning:Shiki-pyon, Shiki-nyan
Tokimeki: Shiki-pyon, Shiki-nyan
Like, Dislikes and Tips
Favorite Outfit Style: Elegant
Acceptable Outfit Style: Sexy
Hated Outfit Style: Sporty
Best Accessory: Shawl
Join Art Club
Always accept his date requests.
Always ask to walk home with him, even if he rejects the offer (Once he's reach a smiling face, you can attempt asking him to have coffee.)
Ideal Dates
Live House (Zodiac)
Movie (The Green Grass Girl (?))
Park (Spring)
Museum (third exhibition - after the historical cars one)
Waterfront Park (Habataki Tower)
Habataki Fireworks
Amusement Park (Merry-go-round)
Amusement Park (Bungee Jump)
Amusement Park (Night Parade)
Skinship
Where: Lower sleeves and shirt (not his shoulders or near his neck) and Top of his Head
When: When greeted on your date, after responding appropriately, and when he rates the date.
Correct Responses
Birthday and Christmas Gifts
Edit
Birthday Gifts
1st Year: Victorian hand mirror
2nd Year: Compact mirror
3rd Year: Pajamas? (3 Rich)
Christmas Gifts
CG Images
Edit
Ending Requirements
Edit
Art = 200+ Each
Charm = 150+ Each
Had at least 10 Dates
Have a relationship of Like or Love
No bombs have gone off
Ad blocker interference detected!
Wikia is a free-to-use site that makes money from advertising. We have a modified experience for viewers using ad blockers

Wikia is not accessible if you've made further modifications. Remove the custom ad blocker rule(s) and the page will load as expected.