Motoharu Masaki
Edit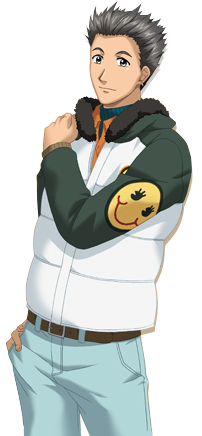 Meeting Requirements: Start working at Anneri Floral Shop
Birthday: January 24th
Star Sign: Aquarius
Blood Type: A
Club/Job: Part-timer at Anneri Floral Shop
Favorite Color: Orange
Future: Second-rate University
Your Rival: None
Voice Actor: Yuji Ueda
Nicknames:
Default: Masaki-senpai
Like, Dislikes and Tips:Edit
Favorite Outfit Style: Sexy
Acceptable Outfit Style: Pure
Disliked Outfit Style: Elegant
Always accept dates since you can't ask him out
Neutral State:
Smiling:
Grinning and Tokimeki:
Correct ResponsesEdit
Birthday and Christmas Gifts
Edit
Birthday GiftsEdit
1st Year: Silent Hill Soundtrack
2nd Year: RENGE Cafe Don Set
3rd Year: DVD Collection of Horror Movies
Christmas GiftsEdit
He doesn't accept Christmas gifts, so save your money with a random 1 rich item.
Ending Requirements
Edit
Fitness = 150+
Social = 150+
At least 15 Dates (With Accidental Kiss) 25 Dates (Without Accidental Kiss)
Ad blocker interference detected!
Wikia is a free-to-use site that makes money from advertising. We have a modified experience for viewers using ad blockers

Wikia is not accessible if you've made further modifications. Remove the custom ad blocker rule(s) and the page will load as expected.