Kazuyuki Akagi
Edit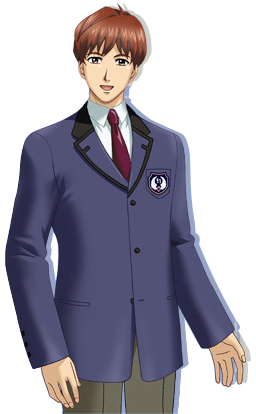 Meeting Requirements: Go shopping 5 times
Birthday: December 8th
Star Sign: Sagittarius
Blood Type: B
Club/Job: Habataki's Student Council
Future: First-rate University
Voice Actor: Kenji Nojima
Nicknames:
Default: Akagi-kun
Due to Akagi being a secret character, you don't have to worry about your outfit style, calling him for dates, or saving for presents.
Go shopping, a lot (You don't need to buy anything, just visit the stores)
Try aiming for a First-rate University (though it's probably not necessary)
Don't join the Student Council
Do not allow the other guys to enter tokimeki mode or you'll miss out on Akagi's Ending
Neutral State:
Smiling:
Grinning and Tokimeki:
Birthday and Christmas Gifts
Edit
He doesn't accept Christmas gifts, so save your money with a random 1 rich item.
Ending Requirements
Edit
Go shopping 5 times (this will unlock his 1st CG)
Go shopping 7 more times (pick the first choice)
Go shopping 13 more times (you should hint an event at the burger place)
Go shopping 12 more times (an event at the school gate should occur)
Once you've made 50 shopping trips in total, nothing new will happen till September Year 3
You'll get invited to go to a concert, choose the first choice to get the CG
Now you don't really need to do anything else other than enjoy the oncoming events.
Ad blocker interference detected!
Wikia is a free-to-use site that makes money from advertising. We have a modified experience for viewers using ad blockers

Wikia is not accessible if you've made further modifications. Remove the custom ad blocker rule(s) and the page will load as expected.