Kazuma Suzuka
Edit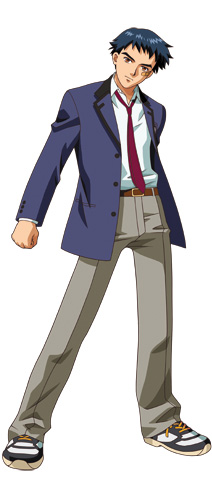 Meeting Requirements: Reach 55 in Fitness
Birthday: December 4th, 1986
Horoscope: Sagittarius
Blood Type: B
Club/Job: Basketball Club
Your Rival: Tamami Konno
Favorited Color: Red
Favorite Music: Hip Hop
Favorite Food: Fish
Hobbies: Basketball and Fishing
Voice Actor: Nobuyuki Hiyama
Nicknames:
Neutral and below: Suzuka-kun, Suzuka-san, Suzuka, Kazuma-kun
Smiling: Kazuma
Grinning: Kazurin, Kazukun
Tokimeki state: Hot-blooded-san?
Like, Dislikes and Tips
Favorite Outfit Style: Sporty
Acceptable Outfit Style: Pure
Hated Outfit Style: Sexy
Best Accessory: Hairpin
Join Basketball Club
Always accept his date requests.
Always ask to walk home with him, even if he rejects the offer (Once he's reach a smiling face, you can attempt asking him to have coffee.)
Ideal Dates
Indoor Pool
Bowling
Ice Skating
Live House
Amusement Park
Skinship
Where: Face (Tap his bandage)
When: When greeted on your date, after responding appropriately, and when he rates the date.
Correct Responses
Bowling = "I'd be glad if you taught me how to play."
Bowling = "It makes you feel exhilarated."
Indoor Pool = "If it's swimming, leave it to me!"
Indoor Pool = "Yeah, you can swim whenever you want."
Indoor Pool = "Of course! I'm always careful."
Amusement Park (Roller Coaster) = "I was scared so I closed my eyes..."
Amusement Park (Roller Coaster) = "It's more trilling to let your hands fly."
Amusement Park (Roller Coaster) = "Should we ride it until we've had enough?"
Birthday and Christmas Gifts
Edit
Birthday Gifts
1st Year: Supplement set
2nd Year: Fishing Lure
3rd Year: Basketball shoes
Christmas Gifts
1 Rich: Pencil Holder
10 Rich: Mini Stepper
Ending Requirements
Edit
Fitness = 200+
Social = 150+
Had at least 10 Dates
Have a relationship of Like or Love
No bombs have gone off