Itaru Hikami
Edit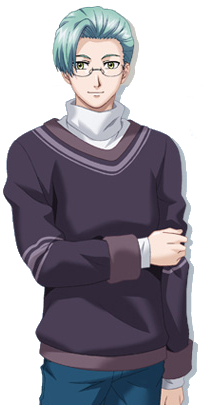 Meeting Requirements: Reach 55 in Intelligence or join Student Council
Birthday: October 6th
Horoscope: Libra
Blood Type: A
Club/Job: Student Council
Favorited Color: White
Your Rival: Chiyomi Onoda
Future: First-rate University
Voice Actor: Chihiro Suzuki
Nicknames:
Default: Hikami-kun, Hikami, Chairman,
Smiling: Itaru-kun' Itaru-san
Grinning: Itaru, Hikamicchi
Tokimeki: Itaru, Hikamicchi
Like, Dislikes and Tips
Favorite Outfit Style: Elegant
Acceptable Outfit Style: Pure
Hated Outfit Style: Sexy
Ideal Dates
Movie Theater (273.15)
Museum (Dinosaur and Fossils Exhibit)
Sky Garden
Event Hall (KCH Orchestra)
Fireworks Festival
Habataki Mountain (Momiji) (Skiing)
Habataki Castle (Castle's Keep)
Amusement Park (Go Karts)
His house

Skinship
Neutral State: Tap Hair or Glasses
Smiling: Tap Hair or Glasses; When he rates the date, slide across his arm.
Grinning and Tokimeki: Pretty much anything is acceptable (as long as you didn't upset him.)

Correct Responses
Amusement Park (Ferris Wheel) = "I'm glad we enjoyed the view with ease!"
Amusement Park (Races) = "They've done quite a few laps."
Aquarium = "Ah, they are beautiful fish!"
Aquarium (Orca Show)= "It's also called a 'Killer Whale'."
Botanical Gardens = "The diversity of ferns deserved attention. "
Forest Park (Spring) = "We must be wary of UV Rays!"
Firework Festival = "Was the blue one oxidization of copper?"
Habataki Castle (Castle's Keep) = "I wonder what the past view was like."
Habataki Mountain (Skiing) = "I'm alright at it."
Sky Garden = "That is one of the 7 Wonders of the World."
Sky Garden = "Hmm, even you worry, Itaru-kun."
His House = "Wow, what an amazing room!"
His House = "So you've read this many books..."
Birthday and Christmas Gifts
Edit
Birthday Gifts
1st Year: Saturn Mousepad
2nd Year: Photo Book: Walk Under the Starry Sky
3rd Year: Meteorite Paperweight

Christmas Gifts
1 Rich: None
10 Rich: Celestial Globe
CG Images
Edit
Ending Requirements
Edit
Intelligence = 200+
Social = 150+
25+ Dates (If had Accidental Kiss event involving Hikami, 15+ Dates)
No bombs have gone off