Ikkaku Amanohashi
Amanohashi is the school's chairman of the board of trustees who dreams of educating an ideal woman. He is wealthy and invites the students to the yearly Christmas party he holds at his residence. He's an old friend of fashion designer Goro Hanatsubaki. It is suggested that his father is an acquaintance of Hazuki's grandfather. He was instrumental in admitting Kijou into the school. He is mentioned in TMGS2 and is seen in Karen and Arashi's Route in TMGS3.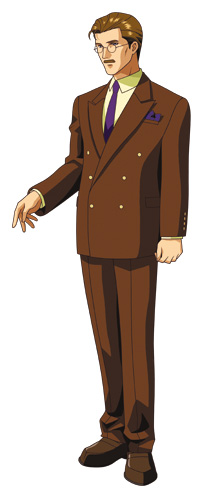 Meeting Requirements: Reach 50 in Charm
Birthday: Feb 5th, 1966
Horoscope: Aquarius
Blood Type: B
Club/Job: Principal / Teacher in charge of Handicraft Club
Favorited Color: Red
Favorite Music: Classic music, British rock when he was kid.
Favorite Fragrance: Floral
Voice Actor: Jurouta Kosugi
Nicknames:
Default: Amanohashi-san
All times: Amanohashi-san, Principal
Smiling: Ikkaku-san
Grinning: Ikkaku-san
Tokimeki: Ikakku, Ojisama
Dating
Like, Dislikes and Tips
Favorite Outfit Style: Elegant
Acceptable Outfit Style: Pure
Hated Outfit Style: Sporty
Best Accessory: Corsage
Always accept his date requests.
Always ask for a ride home, even if he rejects you.
Ideal Dates
None (He has to invite you on dates)
Skinship
Where: Shoulders and Neck Area
When: When greeted on your date, after responding appropriately, and when he rates the date.

Correct Responses
Tabataki Mall = Wow! This is wonderful!
Birthday and Christmas Gifts
Birthday Gifts
1st Year: KTYO CD
2nd Year: Bottled ship
3rd Year: Your memorial album
Christmas Gifts
1 Rich: Glass pencil-stand
10 Rich: Ceramic lantern
CG Images
Be Smiling or Above, during exam times in the summer.
Be Smiling or Above, during November or October.
Be Smiling or Above, at April on the 3rd year go to date at the event hall.
Be Smiling or Above, ride his car during the Summer.
Be Smiling or Above, at Spring go to Boutique Nanami, Alone.
Be Smiling or Above, in the Spring go to the Gentsufuu Gen. Store, Alone. Social must be above 100.
Ending Requirements
Social and Charm = 150+ Each
Had at least 10 Dates
Have a relationship of Like or Love
No bombs have gone off
Gallery