Haruhi Nishimoto
Edit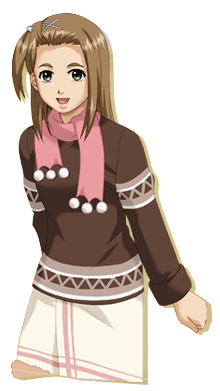 Meeting Requirements: Raise your Style 60+ (Year 1) or Work at Anastasia Bakery
Birthday: May 15th
Star Sign: Taurus
Blood Type: A
Club/Job: Anastasia Bakery
Love Interest: Kounoshin Hariya
Future: Become a patisserie through a specialized school
Voice Actor: Ai Maeda
Nicknames:
Default: Nishimoto-san, Haruhi, Nishimoto, Haruhi-chan
Smiling: Nishimon, Haruru, Parupin
Grinning:Same as Smiling
Birthday and Christmas Gifts
Edit
1st Year: Manicure Set with the latest colors
2nd Year: Swiss Cooking
3rd Year: Complete Collection of Romance Novels
Ending Requirements
Edit
Don't get a guy's ending.
Use her command 70+ times.
Don't go into Rival Mode, must be at Tokimeki State.
1. Loving Through the Distance (Book title)
Date: September
Conditions: Must have met Hariya
Affection: :) and above (cannot be on Rival mode)
What happens: The heroine finds Haruhi crying while reading one of her romance
 novels...

2, 3. Cafe
Date: Any school day
Conditions: Invite her to a café after school
Affection: -
What happens: You get to chat with her from a selection of 3 topics. 2 
versions available – Summer and Winter

Ad blocker interference detected!
Wikia is a free-to-use site that makes money from advertising. We have a modified experience for viewers using ad blockers

Wikia is not accessible if you've made further modifications. Remove the custom ad blocker rule(s) and the page will load as expected.