Christopher Weatherfield
Edit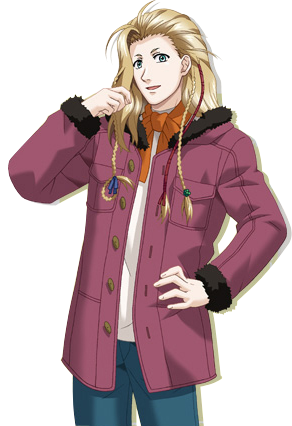 Meeting Requirements: Raise your Art parameter above 55 or Join the Art Club
Birthday: February 23rd
Star Sign: Pisces
Blood Type: O
Club/Job: Art Club
Favorite Color: Green
Your Rival: Hisoka Mizushima
Future:
Voice Actor: Daichi Kanbara
Nicknames:
Default: Chris-kun, Chris, Chris-han
Smiling: Kuribou, Kuu-chan
Grinning: Darling
Like, Dislikes and Tips:Edit
Favorite Outfit Style: Sporty
Acceptable Outfit Style: Sexy
Disliked Outfit Style: Elegant
Swimsuit:
Ideal DatesEdit
Aquarium (Large Aquarium)
Beach
Event Hall (KCH)
Fireworks Festival
Forest Park (Spring)
Habataki Castle (Display Corner) (Gateway to Heaven)
Indoor Pool
Movie Theater (SPINNING2) (The House Next Door)
Museum (Normal) (Glass art display) (Mihara Shiki Exhibition) (Dinosaur and Fossil Exhibit) (GAAGII Exhibition)
Live House (Human Life)
Sky Garden
Disliked DatesEdit
Amusement park (Jet Coaster) (GT Racing) (GP Racing) (Japan Grand Prix)
Event Hall (Rumble House)
Forest Park (Summer)
Game Center (Video games) (Music Game Corner)
Karaoke BOX
Live House (Need's) (Dig Mouse Brother)
Movie Theater (273.15) (Condemned Cell)
Neutral State:
Smiling:
Grinning and Tokimeki:
Correct ResponsesEdit
Birthday and Christmas Gifts
Edit
Birthday GiftsEdit
1st Year: DIY Stamp Set
2nd Year: DEKOTORA World
3rd Year: Wall Art Collection
Christmas GiftsEdit
1 rich:
10 rich: Ceramic Tea Sets
Ending Requirements
Edit
Art = 200+
Charm = 150+
At least 15 Dates (With Accidental Kiss) 25 Dates (Without Accidental Kiss)
Ad blocker interference detected!
Wikia is a free-to-use site that makes money from advertising. We have a modified experience for viewers using ad blockers

Wikia is not accessible if you've made further modifications. Remove the custom ad blocker rule(s) and the page will load as expected.