Chiharu Aoki
Edit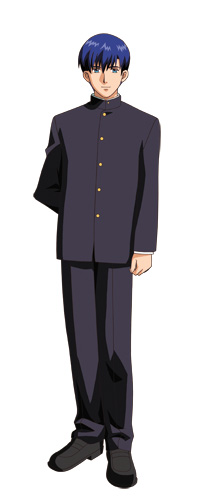 Meeting Requirements: Gone Shopping 6 times (Visit 2 stores during 3 Shopping trips)
Birthday: August 18th, 1986
Horoscope: Leo
Blood Type: A
Club/Job: None
Favorited Color: Orange
Favorite Music: '70s Japanese Music
Voice Actor: Shotaro Morikubo
Nicknames: None
Like, Dislikes and Tips
Go shopping as much as possible (you don't have to spend any money, it's the number of trips that count).
Make sure to check your mail, this is how you interact with Aoki, due to him being a pen pal.
Ideal Dates
None (You only have one date with him)
Skinship

Correct Responses
Birthday and Christmas Gifts
Edit
Birthday Gifts
Christmas Gifts
CG Images
Edit
Ending Requirements
Edit
Make sure neither males or females are at Grinning or Tokimeki status
No bombs have gone off
Ad blocker interference detected!
Wikia is a free-to-use site that makes money from advertising. We have a modified experience for viewers using ad blockers

Wikia is not accessible if you've made further modifications. Remove the custom ad blocker rule(s) and the page will load as expected.