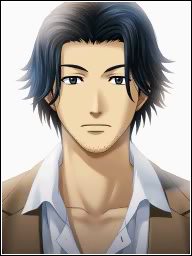 Name: Aizawa Shuugo (藍沢 秋吾 Aizawa Shūgo?)
Meeting Requirements: Check the Hatabaki homepage in October and it will tell you about a book release.
Go out to town repeatedly until it triggers an event where you go to the bookstore. You have to visit at least one of the shops in the shopping district to get it to trigger.
Height: N/A
Weight: N/A
Interests:
Birthday: N/A
Star Sign: N/A
Blood Type: 
Cellphone Number: N/A
CV: Takeshi Kusao 
Description: A "secret" character, he's the writer of an extremely popular romance series that he decided to leave unfinished.